♦ Lead Fluid MM10 pump head suitable for wall thickness 0.86-1mm, ID 0.5-3.2mm silicone tube, Pharmed, PVC, Viton etc. material tube, it can run continuously at the maximum flow rate 29.7 ml/min at 100 rpm, and interval operation, the maximum speed can reach 400 rpm and the flow rate can reach 118.8 ml/min.
♦ The shell of pump head is made of PES material and the roller is made of PVDF material. It has excellent chemical corrosion resistance and high temperature resistance.
♦ The pump head adopts a unique rotary card design. It can be disassembled and assembled without tools. It is easy to replace the pump tube and clean up and maintain. There are two ways to install tube, one is tube connector built-in and the other is to install whole tube. 
♦ Fast-loading pump head, the inlet and outlet end can be installed in any direction on the upper, down and side to meet the needs of different working conditions.
♦ Matching 12V/24V DC gear motor, stepper motor and other micro-motors.
♦ Small size, convenient installation and simple operation.
♦ It is suitable for supporting various small instruments and equipment to meet the needs of micro-injection, flushing, and drainage.
Specification
| | |
| --- | --- |
| Shell | PES |
| Roller Material | PVDF |
| Tube Connector | PP\PVDF |
| Channel | 1 |
| Number of Roller | 3 |
| Tubing Method | Tube connector built-in ( ID ≥1.6mm)/Whole Tube |
| Clearance Adjustment | Fixed clearance |
| Motor | 12V/24V DC gear motor, stepper motor |
| Transmission Pressure | ≤0.10MPa |
| Working Temperature | 0-40℃ |
| Power | <10W |
Flow Rate Parameters
Tube material:Silicone tube, Pharmed, PVC, Viton      Wall thickness0.86~1mm

ID(mm)

0.5

1

1.52

2

2.79

3

mL/rpm

0.016

0.047

0.092

0.146

0.3

0.33

mL/min (continuous working max 100rpm)

1.6

4.7

9.2

14.6

30

33

mL/min (interval working max 400rpm)

6.4

18.8

36.8

58.4

120

132
★Above flow parameters are obtained by using silicone tube to transfer pure water under normal temperature and pressure, in actually using it is effected by specific factors such as pressure,medium etc. Aboove for reference only.
Motor Specification
DC brush motor

Speed

: 3 5rpm, 50rpm , 100rpm , 130rpm ,178rpm ,200pm,320pm,409pm
Voltage: DC12V/3W ,DC24V/3W

Speed accuracy

: ≤±10%
Service life :1000 hours
DC brushless motor

Speed

: 45rpm ,68rpm ,120rpm ,150rpm ,250rpm , 350rpm
Voltage: DC12V/3W ,DC24V/3W

Speed accuracy

:≤±10%
20 Stepper motor

Motor parameter

: step angle 1.8° \ phase 2 \ phase voltage 3.9V \ phase current 0.6A \phase resistance 6.5Ω±10% \

phase inductor 2.2mH±20%

Speed range: ≤200rpm
Products Display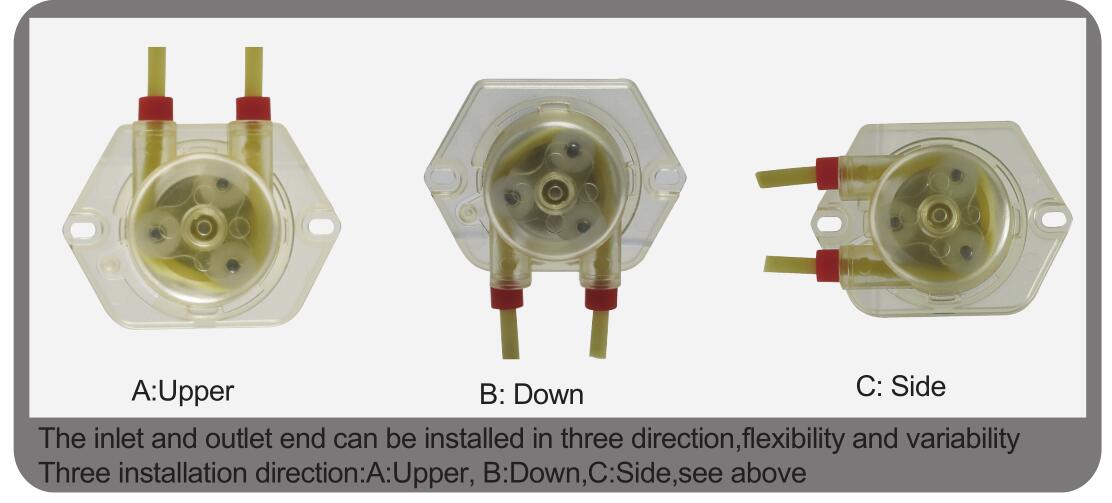 Dimension
DC gear motor

20 Stepper motor

Tube life comparison table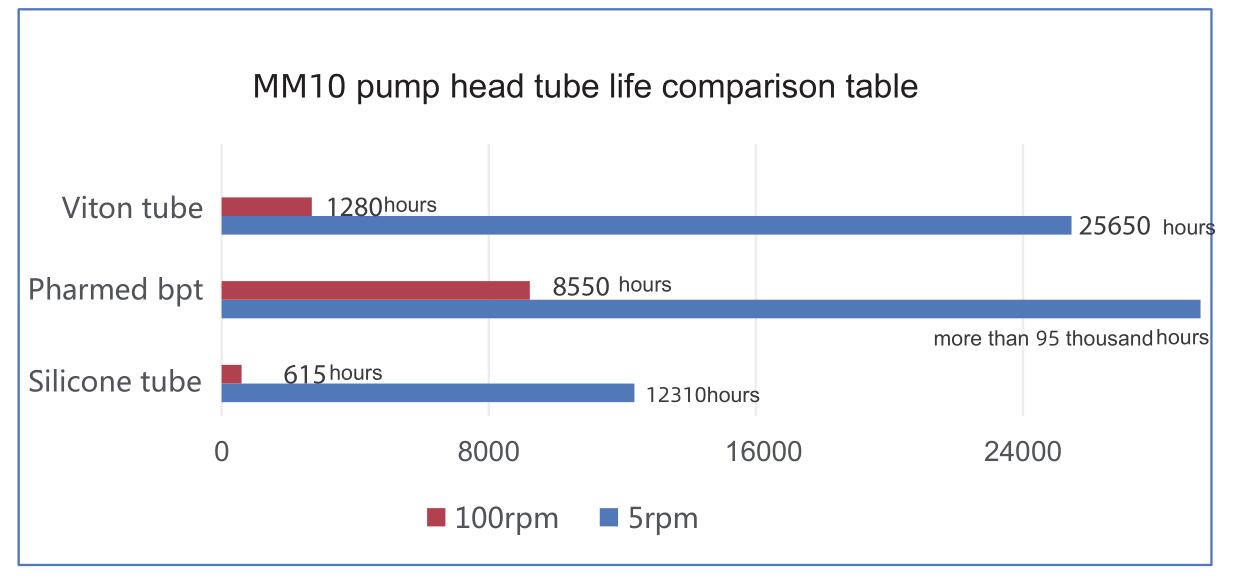 Important tips:
A. For longer tube lifetime, choose thicker wall tube and low speed.
B. For larger flow,choose larger ID tube and in high speed.
C. For higher precision, choose smaller ID tube and medium to high speed.
D. For higher suction and back pressure,choose thinner ID and thicker wall tube and low speed.
Statement:The final explanation right of above information belongs to Lead Fluid.