Lead Fluid split type syringe pumps are widely used in microfluidics, fine chemicals, petroleum, biopharmaceuticals, environment and scientific research institutes and other fields.
TFD series syringe pump is a single-channel micro syringe pump, It composd of two parts, controller and execution unit. Exquisite structure, high precision, stable operation.
Its controller and execution unit are separated structure, and the execution unit is equipped with mounting frame and quick-plug connectors for easy to disassemble, It can be used with other instruments and equipment, such as a brain stereotaxic instrument, which is suitable for various micro-injection experiments and has a smaller volume and is more convenient to hold.
Single channel split type syringe pump has three models:
TFD01-01 split type syringe pump execution unit, suitable for syringe size 5μL-1000uL syringe.
TFD02-01 split type syringe pump execution unit, suitable for syringe size 10μL~60mL syringe.
TFD03-01 split type syringe pump execution unit, suitable for syringe size 0.5μL~100μL syringe.
Function and Features
♦ LF-Touch-OS software system, stable and reliable running, powerful function.
♦ 4.3 inch color LCD touch screen operation, image of the animation and icon is displayed, and colorful interface ,the commonly used function keys, make the device more easy to use.
♦ A variety of working mode choice.
♦ Controller and execution unit split design, easy to installation and fixation.
♦ Support screen lock, key mute operation.
♦ Support a variety of standard syringe, customize syringe.
♦ High precision control.
♦ External signal control start-stop and direction.
♦ A wide range of power input.
Technical Parameters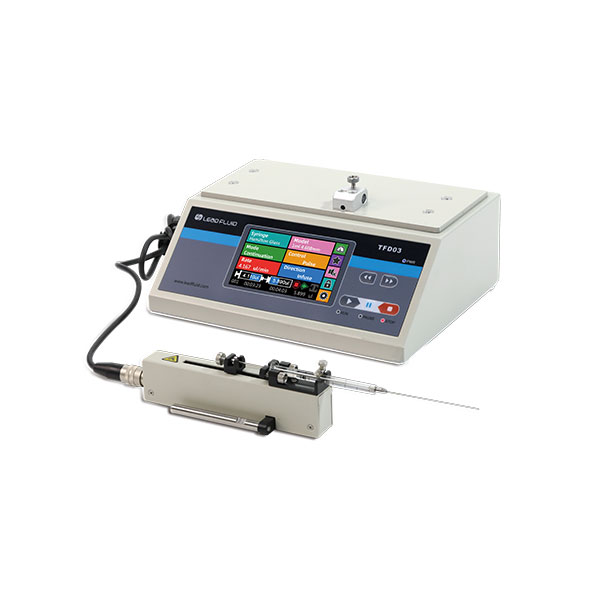 Working mode: infuse, withdraw, infuse/withdraw, withdraw/infuse, continuous mode.
Linear travel accuracy: <±0.35% (>30% of pump stroke)
Thrust regulation: 1~100% arbitrary adjustable
Syringe selection: built-in main manufacturers, the main model syringe to choose, Can use custom syringe, direct input syringe size and diameter.
Flow calibration: through the calibration procedure to obtain more accurate fluid volume.
Operation mode: touch screen + common function keys.
Power-off memory: storing the running parameters automatically.
Function: pause and stop, the sound tip, the lock parameters, fast forward and retreat quickly, display brightness adjustment.
State signal output: 1 road start-stop status ,1 road direction status.
Control signal input: 1 road the falling edge triggers start and 1 road the falling edge triggers stop.
Communication: RS485, Modbus protocol.
Power supply: AC100~240V, 50/60Hz.
Environment: temperature 5~40℃, relative humidity<80%.
Typical application
☆ Continuous infusion of microfluidic chips
☆ High precision syringe of pharmaceutical solution in animals
☆ Continuous infusion without pulse with micro-flow
☆ Injection of drugs into the brain of rats
☆ Dropping reagent in microreactor
☆ High precision ratio of liquid
☆ Control of polymer flow rate by high voltage electrospinning
☆ Capillary sample injection of chromatograph
☆ Automatic sampling by mass spectrometer
☆ Volume control of micro-droplets
☆ Accurate transmission of micro strongly corrosivefluids
Baoding Lead Fluid Technology Co., Ltd. focuses on the design, development, manufacturing and marketing of peristaltic pumps and precision syringe pumps, and has been committed to providing users with high-quality products and perfect technical services. In addition to having the most complete series of peristaltic pumps and syringe pump product lines, Lead Fluid can also provide OEM customized services according to user needs. Lead Fluid's complete and mature product development experience can provide you with fast application guidance and suggestions for peristaltic pumps and syringe pumps, and provide users with high-quality, high-precision, and cost-effective fluid transfer solutions.