Lead Fluid officially released a new precision high-pressure syringe pump—TGD01 today. The high-pressure syringe pump can hold a syringe  gas tight syringe of 0.5μl~140ml specifications. The super large thrust is suitable for the transmission of viscous liquids, chemical reactor experiments, medicine and chemical engineering. And other industries.
Lead Fluid laboratory syringe pumps are widely used in microfluidics, high-voltage electrospinning, fine chemicals, petroleum, biopharmaceuticals, environment, and scientific research institutes and other fields.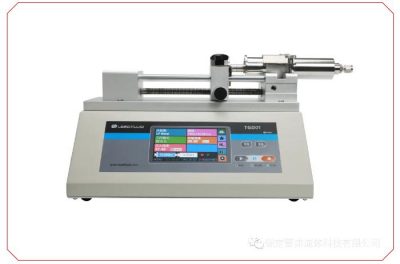 What is the high pressure syringe pump use?
With the increasing application of flow chemistry, the conditions of the reaction system are becoming more and more complicated, and the types of materials to be conveyed are becoming more and more. When using traditional high pressure constant flow pumps, due to the particularity of its structure, the inlet and outlet check valves are often contaminated, can not work normally, resulting in unstable and inaccurate feed flow. At the same time, when encountering viscous corrosive liquid materials, the one-way valve is difficult to close smoothly and loses its function, which seriously restricts the transportation of viscous materials. In order to adapt to the rapid development of flow chemistry applications, expand the scope of application, and transport various types of raw materials, in order for customers to use more professional and convenient equipment, save time, material resources, and manpower, Lead Fluid has launched a new high-pressure syringe pump.
TGD01 High Pressure Syringe Pump Introduction
Lead Fluid TGD01 is a single-channel high-pressure syringe pump with high-definition LCD touch screen operation. It transmits more than 200lbs 91kg linear thrust in a wide range of flow rates and supports five working modes such as infuse and withdraw. RS485 communication, support Modbus protocol, wide range power input, suitable for high-precision transmission of liquids  including high viscosity.
Function and Feature
♦ Accurate and smooth flow rate
♦ Can be loaded with a stainless steel syringe for high pressure or viscous liquid transmission
♦ The accuracy and stability of liquid injection
♦ Power-down memory function
♦ Simple to complex programming operations can be performed without a computer
Common applications
High thrust injection
Highly corrosive liquid injection
High viscosity liquid injection
Micro high precision injection
Inject into high pressure container
TGD01 suitable for 0.5ul-140ml syringe, linear speed 1μm/min~190mm/min
Technical Parameter
syringe size: 0.5μl~140ml
Flow range: 3.06pl/min (0.5μl syringe)~215ml/min (140ml syringe)
Work mode infuse, withdraw, infuse /withdraw, withdraw/infuse, continuous mode
Channel: 1
Stroke of pump: 140mm
Pusher advance per microstep: 0.156μm/μstep
Linear speed: 1μm/min~190mm/min
Linear travel accuracy: error<±0.35%  (>30% of pump stroke)
Max thrust: 91kg (100% thrust)
Thrust regulation:1%~100% arbitrary adjustable
Syringe selection: built-in main manufacturers, the main model syringe to choose; Can use custom syringe,direct input syringe size and diameter
Flow calibration: through the calibration procedure to obtain more accurate fluid volume
Display: 4.3-inch color LCD with screen display and transfusion volume, residual fluid volume, flow ,operation direction ,syringe specification, etc. 。Animation display operation status
Operation mode touch screen+button
Power-off memory: storing the running parameters automatically
Communication interface: RS485, Modbus Protocol
External control: external signal control start and stop, status signal output
Power supply: AC100-240V, 50-60Hz
Work environment: temperature 5~40℃, relative humidity<80%
Dimension: 305×222×190 (mm)
IP grade: IP31
Shell material: sheet metal spray
Weight: 6.6kg

If you are interested in our products, please feel free to contact us.