Lead Fluid peristaltic pumps have 3 types of peristaltic pump,variable speed peristaltic pump, flow peristaltic pump and dispensing peristaltic pump. Flow type peristaltic pump has the basic control functions of displaying speed, start and stop, direction, speed adjustment, filling and emptying, power-down memory, external control input and other functions. The flow peristaltic pump can display the current flow rate and speed of the peristaltic pump and flow calibration.
Features of Lead Fluid Flow Peristaltic Pump
3.5-inch color LCD screen display, intuitive image
The touch screen with the button operation to bring a good user experience
Precise flow control and display, micro-step algorithm to ensure the accuracy of different settings
The programming mode supports 30 different quantitative parameter settings, which can realize complex control processes
RS485 communication, MODBUS protocol, support up to 80 programming instructions, convenient to connect with various control equipment
The tubing is convenient and flexible to install the card, and the card installation is reliable
Type of Lead Fluid Intelligent Flow Peristaltic Pump
Lead Fluid 01L Intelligent Flow Peristaltic Pump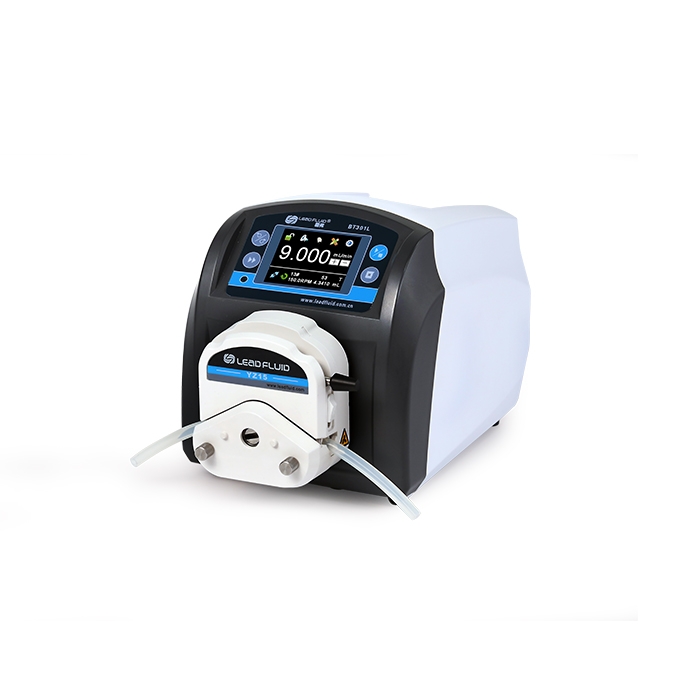 This series peristaltic pump has the basic function of flow display, flow control and flow accumulation, peristaltic pump expert system, to the greatest extent user-friendly use, ABS plastic housing, creative streamlined appearance, concise and beautiful. Can drive multi-channels and various types of pump heads.
Lead Fluid Intelligent Flow Peristaltic Pump
BT101L/BT301L/BT601L adopts color LCD and touch screen technology. The operator can input the flow rate directly. Simple operation, the operating interface is intuitive. Mainly uses in controlling the flow transmission, the highest accuracy of controlling flow is ±0.5%. Unique dispensing function to meet the requirement of repeated timing and quantitative transmission of fluids, intelligent temperature control technology, in order to reduce unnecessary operating noise. RS485 communication, adopts the MODBUS communication protocol, the pump is easier to be connected with other equipments, such as computer, human machine interface and PLC.
2. Lead Fluid 00L Intelligent Flow Peristaltic Pump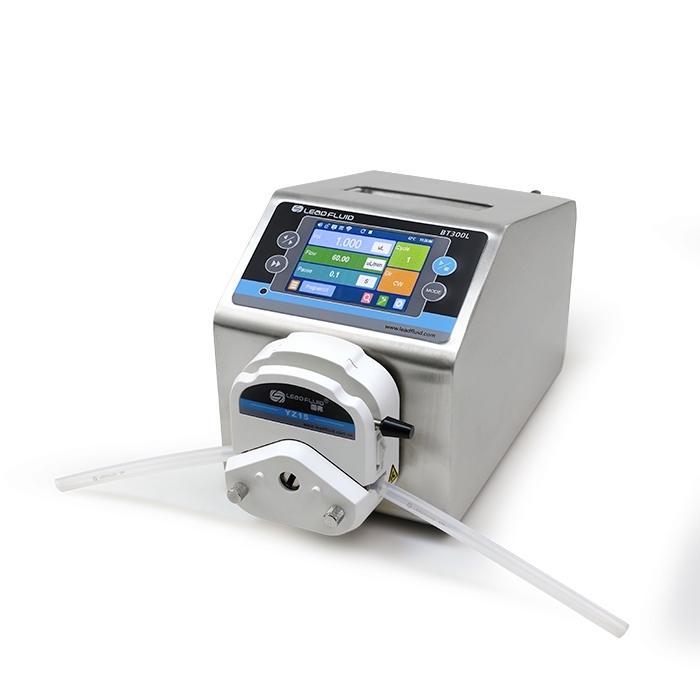 BT100L/BT300L/BT600L intelligent flow peristaltic pump, can realize high precision continuous transmission and simple quantitative function. 4.3 inch HD LCD touch screen display, simple operation. Support Lead Fluid APP software, which can remotely control the pump and monitor the running status in real time. Powerful functions to meet complex transmission requirements. RS485 communication, MODBUS protocol is available, adapt to different communication equipment.