Baoding Lead Fluid won the title of "Innovative Baoding" Top Ten Technological Innovation Enterprises in 2020. Xiaoling Zhang, general manager of Lead Fluid, attended the conference and received the award.
Actively assume social responsibility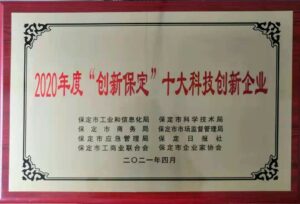 Behind the honor is the original aspiration that Lead Fluid has always adhered to for 22 years. As one of the largest peristaltic pump manufacturers in the country, Lead Fluid actively fulfills its corresponding social responsibilities, is committed to pragmatic development and benefits the society. And long-term attention to public welfare undertakings in the fields of bio-environmental protection, intelligent manufacturing, new energy, pharmaceuticals, food and chemical industries. When the epidemic comes, actively assume the responsibility of the company itself, insist on selling a full range of peristaltic pump products to nucleic acid testing and pharmaceutical companies at a fair price, and have made certain contributions to supporting the whole society in fighting the new crown epidemic.
Continue to push the industry forward
In the process of rapid development, Lead Fluid always attaches great importance to scientific and technological innovation. With its own industry background and technical advantages, it has continuously developed a series of internationally advanced products and obtained more than 40 independent intellectual property patents, including international inventions. Among them, it has obtained 1 international invention patent, 3 national invention patents, 21 utility model patents, 16 appearance design patents, and 11 soft works. The research and development strength is at the leading level in the industry.
01 Promote industry progress
Based on its own patented technology, Lead Fluid has manufactured the world's first color touch screen peristaltic pump, which has realized the self-guided user parameter setting of the peristaltic pump, function distributed control, realized the intelligent temperature control of the peristaltic pump system, and led the development of the industry. The direction has greatly promoted the progress of the industry.
02 Expand market applications
Lead Fluid extends the key technology of peristaltic pump based on the original application field of peristaltic pump, and extends the application of peristaltic pump to supporting intelligent manufacturing equipment to realize the intelligent transmission of small amounts of liquid, solar panel production and coating process, and power plant engineering. market. The possibility of extending the field of fluid transmission in the future and deriving more scientific and technological progress will vigorously promote the development of the fluid transmission industry. Promote the development of my country's precision fluid transmission technology in the direction of high precision, high efficiency, high reliability, and environmental protection and safety.
In the future, Lead Fluid will continue to shoulder social and industry responsibilities, blaze a path of innovative development, continue to provide users with high-standard, high-quality products, and promote the continuous development of the peristaltic pump industry.